While browsing a table of books at the Brooklyn Flea on Saturday, I spotted the instantly recognizable cover illustration on Watty Piper's "The Little Engine That Could."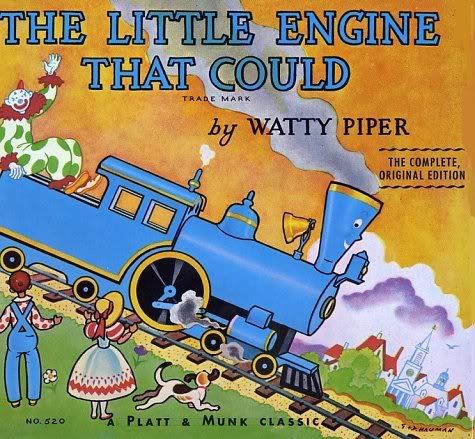 As I paged through this 1930s children's classic about the helpful Little Blue Engine who saves the day while teaching the "I think I can" value of optimism and persistence, I was reminded of a verse from the same era that Napoleon Hill reprinted (without attribution or title) in "Think and Grow Rich" (1937) to emphasize the importance of self-confidence in the attainment of success. Check it out:
"If you think you are beaten, you are,
If you think you dare not, you don't
If you like to win, but you think you can't,
It is almost certain you won't.
"If you think you'll lose, you're lost
For out of the world we find,
Success begins with a fellow's will –
It's all in the state of mind.
"If you think you are outclassed, you are,
You've got to think high to rise,
You've got to be sure of yourself before
You can ever win a prize.
"Life's battles don't always go
To the stronger or faster man,
But soon or late the man who wins
Is the man who thinks he can!"
These few  lines present a pretty big idea: Your mindset – your beliefs, thoughts and emotions – powers the engine that fuels your outcome. You achieve whatever it is you've been thinking about. That means if you're thinking about something unwanted – like stressing over a slow quarter or worrying about a key-client or customer issue  – you'll get that, too. In other words, you create your individual reality.
While this idea is not new, recent discoveries in cognitive and behavioral neuroscience support the concept, and their application in the business world has been picking up steam. Your mindset of unique beliefs about your professional reality drives your behavior and ultimately determines your results.
Whatever your present goal is, love the idea. Expect it. Believe it. Imagine how you'll feel when you achieve it. I think you can.
Related Brain Food Blog posts:
☛  Wiring ourselves for success.
☛  Making sense of perception.
☛  The Ladder of Inference.
Tags: achievement, human energy, managing yourself, mindset, Napoleon Hill, neuroscience, personal effectiveness, success